Quality, American made products engineered to last. For over 20 years, Lee Unlimited has devoted our work to improving the conditions of worksites, farms, and beyond, around the world. Through the development and innovation of dependable products that stand the test of time, Lee Unlimited has developed game-changing solutions to streamline day-to-day work, increase efficiency, and cut down on the physical stress posed on the body by outdated products and conventions. Made in the USA with premium global materials, our heavy duty workbench products are built to last a lifetime.
About the Power Bench®
Since its conception by founder Clint Birkeland, the Lee Unlimited Power Bench® has evolved over time to become the phenomenal product it is today, time and time again fulfilling its destiny to be the most useful, and most trusted heavy duty workbench solution in the world.
Revolutionizing the conventional workbench concept that had long dissatisfied the needs of skilled laborers across the construction and agriculture industry, the Lee Unlimited Power Bench® presents limitless versatility for use, while maintaining its sleek, portable design.
Explore Conventional Uses
Packing unprecedented durability provided by quality craftsmanship using top-of-the-line materials, the Power Bench® isn't just another workbench you can find at the local hardware store, it's the highest quality workbench solution on the market. Built to last, the Power Bench® has received much acclaim from owners over the years.
---
"We use it for lots of cooking, wood working plus so much more. So portable ND handy to setup." - John W., North Dakota
"Hi Clint, I just can't help but take a minute and let you know how very much we have used and appreciated the work bench. My husband used it to finish a deck with railings. I have used it on odd projects and many hours of enjoyment in the shop. I've even found myself irritated that he left his "stuff" on it when I got there. Funny thing is, it is his! Thank you again for all the great service as well as a superb product! Stay well and stay warm." - Darci W., Montana
"A million and one uses for the beat saw stand/bench ever fabricated." - John W. South Dakota
---
Explore the Power Bench® Family
The Lee Unlimited Power Bench® is available in a variety of sizes and configurations to best fit your individual heavy duty workbench needs. Currently, we offer the Power Bench® in three key varieties: the Basic Power Bench®, Complete Power Bench®, and Power Bench® Pro Complete.
Basic
Power Bench®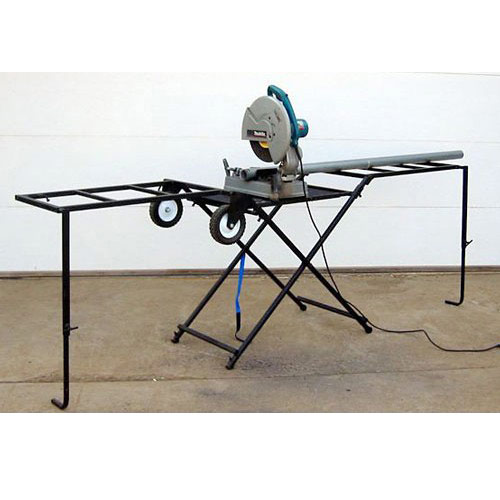 The Basic Power Bench® includes:
The Basic Power Bench® has a black powder coat finish
Main X legs with 1" square tubing nearly 1/8" thick
One outer leg per side with extra legs available (can link to Accessories, Extra Legs page)
Basic bench: 9' long
Base of stand: 24" deep
Top of table: 18" deep
Complete
Power Bench®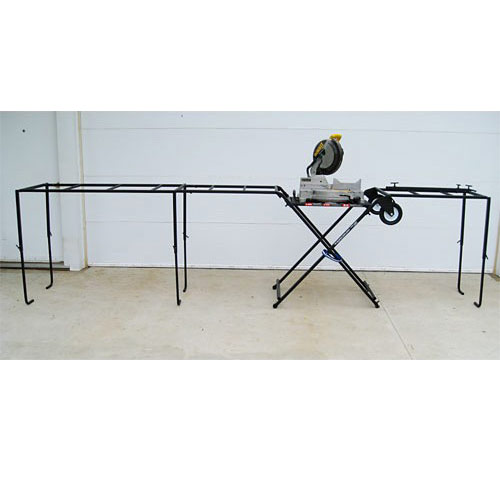 The Complete Power Bench® includes:
Black powder coat finish
4 extra legs
1 - 56" extension table (longest and strongest in the industry)
1 stop rail
Industrial strength adjustable workbench
Handles metal chop saws
Power Bench®
Pro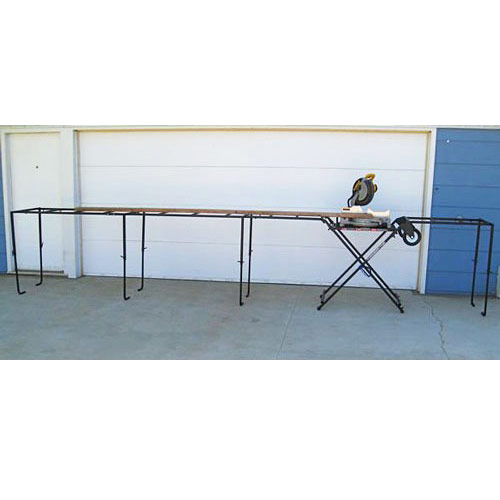 The Complete Power Bench® with Extra Extension Table & Adaptors includes:
Black powder coat finish
6 extra legs
2 - 56" extension table (longest and strongest in the industry)
1 stop rail
1 pair of extension adaptors
Extensions will fit both sides, or extension to extension
Industrial strength miter saw stand and total work system
Handles metal chop saws
---
Need More Versatility? Check out our Power Bench® Accessory Products
Lee Unlimited has developed a variety of add-on accessories to further pack the Power Bench® punch when you're on the job. Easily upgrade your Power Bench® without the hassle of welding or faulty parts. Our accessories are just as high quality as our Power Benches.
Upgrade your Power Bench® Game with the Power Package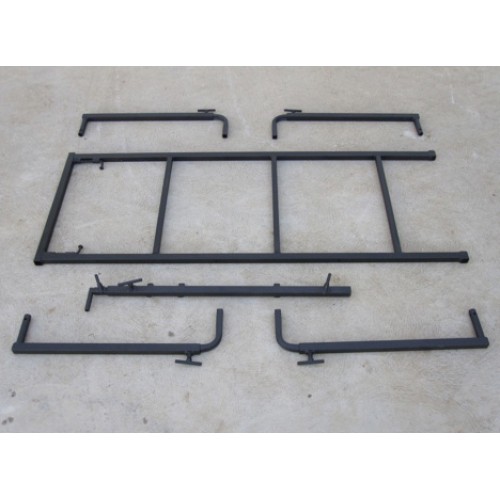 Easily upgrade your Basic Power Bench® to a Complete Power Bench® with the Power Package. Complete with an extension table, stop rail, and four extra legs, the Power Package is a great solution for customers whose projects have outgrown the size of the Basic Power Bench®. Why buy an entirely new Power Bench® when you can easily upgrade the one you already have?
Enjoy Greater Control of Your Materials with Extension Rollers
Lee Unlimited's Power Bench® Extension Rollers make sliding and repositioning materials easier than ever with their durable bearing steel roller make. Whether your craft calls for woodworking or metal chop sawing, you'll appreciate having complete control of your materials. The spring-loaded Extension Rollers are conveniently engineered for use when you need them. And once you're ready to take them out, they can be easily removed with a small screwdriver to release the durable pin that holds your rollers in place.
Currently, Lee Unlimited offers Extension Rollers in sets of one (1), three (3), and six (6) for our Long Rollers or sets of six (6) for our Short Rollers.
---
Get the Most out of Your Power Bench®
Whether you need an Extension Table, Extension Adapters, Power Bench® Straps or what have you, we've got a variety of additional accessory products available to take your Power Bench® experience to the next level.
US Patent #6,240,987
Canada Patent #2,326,203
Made in Dupree, SD 57623