Your Total Work System Search Ends Here!
Your total work system search ends with the Lee Unlimited Power Bench®. Providing relief to professionals across multiple industries who have long endured the burden of utilizing unreliable workbenches to accomplish their day to day tasks, Lee Unlimited's Power Bench® has changed the game forever. Pairing its versatility with the highest-quality materials and make on the market, the Lee Unlimited Power Bench® is the best workbench solution for welders, woodworkers, and contractors alike. High quality, high caliber, and high performance – the Lee Unlimited Power Bench® helps you get the job done right without the backache.
Fit for use by contractors, farmers, everyday home improvement buffs, and everyone in between, the Lee Unlimited Power Bench® blows our competitors out of the water in its ability to adapt to your real-world needs. With a high quality, hand-crafted make, there's nothing the Power Bench® can't do. Engineered to serve as a metal chop saw stand, miter saw stand, welding table, and woodworking bench, all in one, the Lee Unlimited Power Bench® makes sawing and welding easier than ever before.

Order Now and Receive Free Shipping!
---
See the Power Bench® in Action
---
The Power of the Lee Unlimited Power Bench®
Whereas traditional, low-quality workbenches have long failed to provide an all-in-one solution for the various needs of those who regularly use saw machinery to get the job done, the Lee Unlimited Power Bench® simplifies the burden of lugging around various workbenches with its ergonomic design and unmatched adaptability. With its universal application, the Power Bench® makes work benches that only serve one purpose for one specific type of job a thing of the past. Allowing users to work anywhere from 30 to 41 inches in height, the Power Bench® adapts to your various needs and the intensity of the project you are working on. You'll never have to bend over to saw again – the ideal solution for tall people and short people, alike!
Foldable to the size of a traditional step ladder for easy storage and easily extendable by adding extra legs and extensions, the Lee Unlimited Power Bench® is the strongest, and longest, portable bench on the market.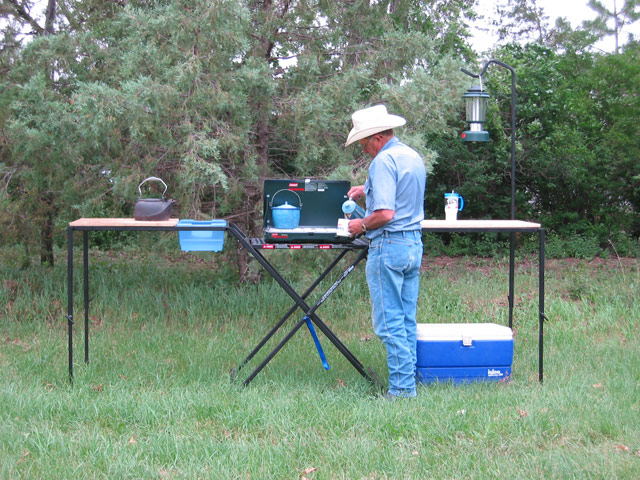 Who doesn't love having the right solution to improve productivity? Able to scale to the size of your project, you'll be completing intensive tasks easier, and faster, than ever. Whether your project calls for one Power Bench® or three, you'll be thankful you made the right investment in a dependable workbench that caters to your unique needs.
But why stop on the construction site, garage, or on the farm? The Lee Unlimited Power Bench® goes the extra mile with its unlimited versatility for recreational use. Perfect for hunting, fishing, camping, and any other activity that may require the use of a durable stand, the Power Bench® makes life easier no matter where you take it.
---

"A million and one uses for the beat saw stand/bench ever fabricated." - John W. South Dakota
"I've used the Lee Unlimited Power Bench® for 2 years. I have found it to be amazingly sturdy. Also, I value the portability and all-purpose design." – H.L. Moody from Oklahoma
"This is by far the best table for miter saws that I have ever used, and I have went through plenty of other brand tables. I am looking forward to receiving my second Power Bench® for my other miter saw so me or my helper are not standing around waiting for the other one to finish cutting on my current Power Bench® because we will not set up my traditional 'home improvement store' table after owning a Power Bench® ! It is the best out there and anyone willing to try the Power Bench® will agree after just the first day!!" – Brian from North Carolina
---
Built on Hometown American Values & Unrelenting Grit
Having spent decades working in contracting, Power Bench® founder Clint Birkeland long endured the stresses posed by unreliable workbenches. After spending years searching for the perfect portable workbench to suit all of his needs at home, on the farm, and in his commercial construction ventures, Clint took matters into his own hands. Developing the first prototype for the Lee Unlimited Power Bench® in his shop in Dupree, South Dakota, Clint found the solution to decades of discomfort in the workplace. Engineered to perfection.
Learn more about the origins of the Power Bench®